What would it be like if you were to market to individuals specifically based on their personality?
Would you make more money?

Would you work fewer hours?

Would you have less stress?

Would you have greater life balance in every area of your life?

Would you have more fun at what you do?

Would you get noticed in a very busy world?

Would you stand out from your competition?
One of the most powerful reasons Personality Masteries is so effective is the two series of questions which are asked.   "Which of these four shapes do you tend to like the most?" and "Which of these four things would cause you the most frustration in any area of your life?"
When we are willing to just come right out and ask these questions it does something magical to people.  It creates curiosity, it creates interest, it becomes almost irresistible for people to ask "What does that mean?" or "Why are you asking me those questions?"
It sets us apart from our competition and draws people into what we do and who we are.  A simple postcard, handed to someone or better yet, sent  out to your entire database, would show you what kind of feedback and questions you would gain as a result of this simple and low cost effort.
Using postcards along with technology to identify the personality of our prospects, clients,  referral sources, vendors and partners helps us to be more effective in our marketing, sales and servicing.  Postcard marketing is a powerful and inexpensive way to identify the personality of everyone you connect with.
Once you have identified their personality, you will increase the effectiveness of your marketing, pre-sales, sales and servicing and will have the foundation in place to create a relationship for life.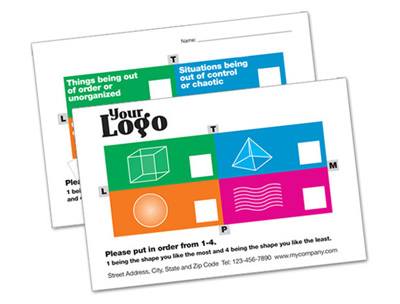 Having the knowledge base of personalities is powerful, without question. Leveraging that knowledge into making money is a whole different animal which is why we have partnered up with a number of experts/companies in many different industries to bring you tools, systems, and processes to help you leverage Personality Masteries into connecting with people in a whole new way.